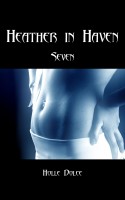 Heather shifted her weight from foot to foot and looked at the ground. She had asked Mistress Victoria to come back into the dressing room with her early, so that she would have a chance to talk to her. Now, she was not sure how to begin.
What if Mistress thought Heather was using her as a messenger? Or if she got angry at Mia for tipping Heather off to Samuel's activity at the club?
Mistress Victoria brought her fingers to Heather's cheek and stroked it lightly. Heather leaned her head into her Mistress' hand and closed her eyes. The tenderness helped to settle her own nerves. "You have something you want to talk to me about. Something important."
"Yes, Mistress." Heather opened her eyes and studied her Mistress' face. She projected patience and concern. "Do you know all of your patrons by name?"
Mistress nodded her head. She stepped back and motioned for Heather to sit. Heather sat down in the folding chair. In a few minutes, the slaves would be in to prepare her for tonight's show.
"Mia's husband is the lawyer I work for. She wants him to seduce me, an office fantasy thing I guess."
"And you don't want to do this because of your work relationship." Mistress leaned her weight on a waist-high wardrobe box. "It is understandable."
Heather felt a flush of embarrassment move through her. "Oh, Samuel's cute enough. And honestly, we wouldn't be the first people in the office to be fooling around."
"Or the first one you've fooled around with?"
The flush moved onto Heather's face. "To be fair, I knew Olivia before I started working there."
"So what is the matter then, if you're happy to participate in their little game?"
Heather breathed in slowly. "Samuel doesn't know that I'm your submissive. Mia told him about me here, but she didn't know I was his secretary. I don't want to say anything to him myself. I want to let the seduction game progress naturally. I sort of figured out, though –" Heather fidgeted with the wooden arms of the chair. "The special guest you had last weekend, that was Samuel."
She looked up. Mistress Victoria's expression was unreadable.
"Mia didn't tell me. We were talking, and she mentioned that people from the office come here during the week. I got a little presumptuous and asked if Samuel did. She avoided my answer, and I remembered seeing her last weekend, heading to the back. I had thought she was going back to play, but it occurred to me she might enjoy watching her husband."
Mistress' face remained stoic. Heather had felt bad for asking Mia if Samuel came to the club. She did not think that the question was this bad, though. How serious was Samuel about his privacy?
"I have not been letting him see you because I was concerned you might find it uncomfortable." A smile formed on Mistress Victoria's lips. "Now you've complicated it even more with your game. I really don't know what to do with you."
Heather's stomach knotted and fluttered at once. She was not sure if she was being played with or reprimanded.
Maybe she's doing both?
Get the full chapter at Smashwords.