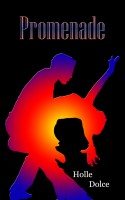 Mark watched Julie as she slipped on her dress for the party. He moved his eyes from the mirror to her back and to the mirror again, transfixed by the transformation that vantage gave the dress. In the mirror, he traced Julie's light skin beneath her dark hair, which she began pulling up into a casual bun. The dress dropped off the shoulders in a gentle swoop over her bust line. Below the breasts, it traced an hourglass with open sides and hugged her hips down to her upper thighs. Behind her, the dress swooped down her shoulder blades creating a wide band across her back, leaving the back open. The skirt draped over her hips and butt, trailing down to the floor, where Julie stood on her tiptoes as she tilted her head in order to see the placement of pins in her hair.
Only the sleeves seemed to be the same from front to back. They traced down the arm to the elbow, where they opened and hung down to her wrists. Mark took in the full vision of Julie, in the mirror and from behind, enjoying the way the dress accentuated her slender figure and brought her breasts and hips into prominence. He thought of how eyes would linger on her later and licked his lips, feeling his desire pulsing, but knowing that it was almost time to head downstairs.
"You like the dress then?" Julie smiled at him in the mirror and leaned over the counter. The skirt slid over her hips and hung between her slightly parted legs. Mark imagined the front pulling up, barely hiding everything important, and swallowed hard. "I'm glad. I was afraid it would be too conservative."
Mark shook his head and took a breath. "I don't think that dress has met conservative before." He allowed his eyes to linger a little more, imagining how many would do the same tonight. He admired Julie for being able to not only endure, but blossom under the gaze. She loved the attention, and he loved how her body responded after they came home from an evening out. "It is fantastic."
Julie turned around and leaned against the vanity counter. Her skirt hugged her upper thighs, higher than intended. "If you like the dress, you love these then." She slid the skirt up, revealing the black, lacy panties beneath. He could trace the thin, well trimmed patch of hair under the lace and the smooth vulva below.
"We really need to head down to the party." The statement was more for Mark's benefit than Julie's.
Read more at StreetWraith Press, Amazon, or Smashwords.